Tramore RNLI was involved in a rescue operation with a difference recently when they worked alongside Tramore Coast Guard and Waterford Animal Welfare to bring a stranded bull to safety after he had fallen from a cliff and taken refuge on a rocky ledge.
The drama...
Read Full Post »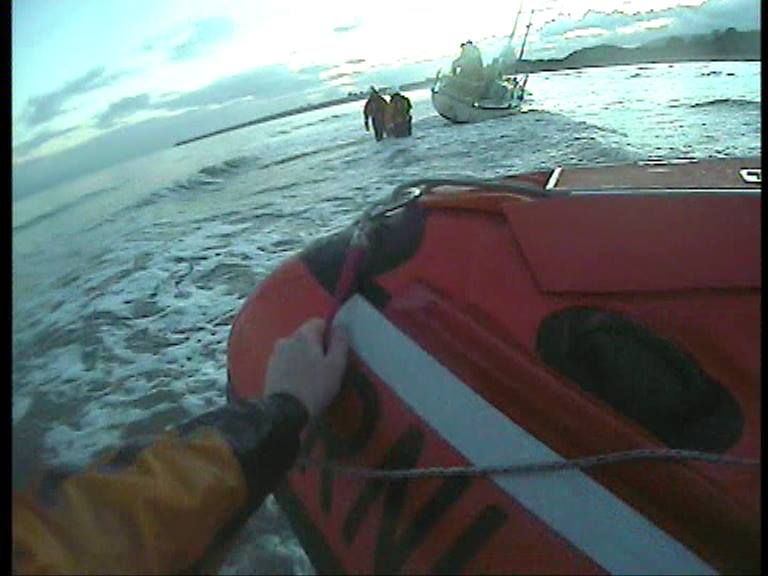 Wicklow RNLI has assisted two People yesterday (Sunday 9 November) after their yacht got got into difficulties off Brittas Bay.
The volunteer crew launched both Wicklow RNLI lifeboats this afternoon at 4.10pm to assist a yacht in difficulties off Brittas Bay.
Read Full Post »
A sailor with suspected spinal injuries on a dismasted yacht is receiving hospital treatment this afternoon after a rescue operation on Dublin Bay involving the Dun Laoghaire RNLI lifeboat and Irish Coast Guard helicopter.
The incident occurred shortly after 11am when the 33-foot yacht was ta...
Read Full Post »
Wicklow inshore lifeboat. Photo: RNLI/Wicklow
Wicklow RNLI inshore lifeboat launched at 11.25am (Thursday 16 October) this morning to assist a small fishing boat with engine failure.
Read Full Post »
Two people were rescued by Wexford RNLI in the early hours of this morning (Friday 3 October) after one man was seen entering the water and another, a trained lifeguard, entered to assist.
The volunteer crew was alerted at 1.29am and the lifeboat launched within six minutes of the pagers going off.
Read Full Post »
Swimmers and lifeboat looking on at Blackrock. Photo: RNLI/John McGrath
Galway RNLI Lifeboat came to the rescue of five swimmers who were attacked by a dolphin off Blackrock Tower at Salthill, Galway, this evening (Wednesday 1 October).
Read Full Post »
At 5.25pm on Tuesday 30th September volunteer lifeboat crew received a request from Belfast Coastguard to launch the lifeboat and assist 2 people on-board a 28ft trimaran type yacht. The multihull vessel consisting of a main hull and two out-rigging hulls had experience engine failure 2 nautical miles north of Black Head which is on northern shores of Belfast Lough.
Read Full Post »
The volunteer crew of Bundoran RNLI Lifeboat were called out twice over the weekend to two different incidents, both of which ended well.
On Saturday afternoon (27th September) just after 1.40pm, the crew received a report that a boat's propeller had become entangled in the rope...
Read Full Post »
On Tuesday (23 September 2014) at 4.25pm, Fenit RNLI volunteer lifeboat crew were requested by Valentia Coast Guard to launch and assist a man in difficulty on the rocks at the entrance to Barrow Harbour.
Fenit RNLI launched their inshore lifeboat Bradley & Sonya at 4.25pm following a call fr...
Read Full Post »
Following an alert by pager today 21/09/14 Arklow RNLI's Lifeboat Ger Tigchelaar was launched within minutes to the aid of casualty vessel that was reported to be taking on water with 3 persons aboard.
In calm conditions our volunteer crew proceeded to scene and after locating the vessel app...
Read Full Post »